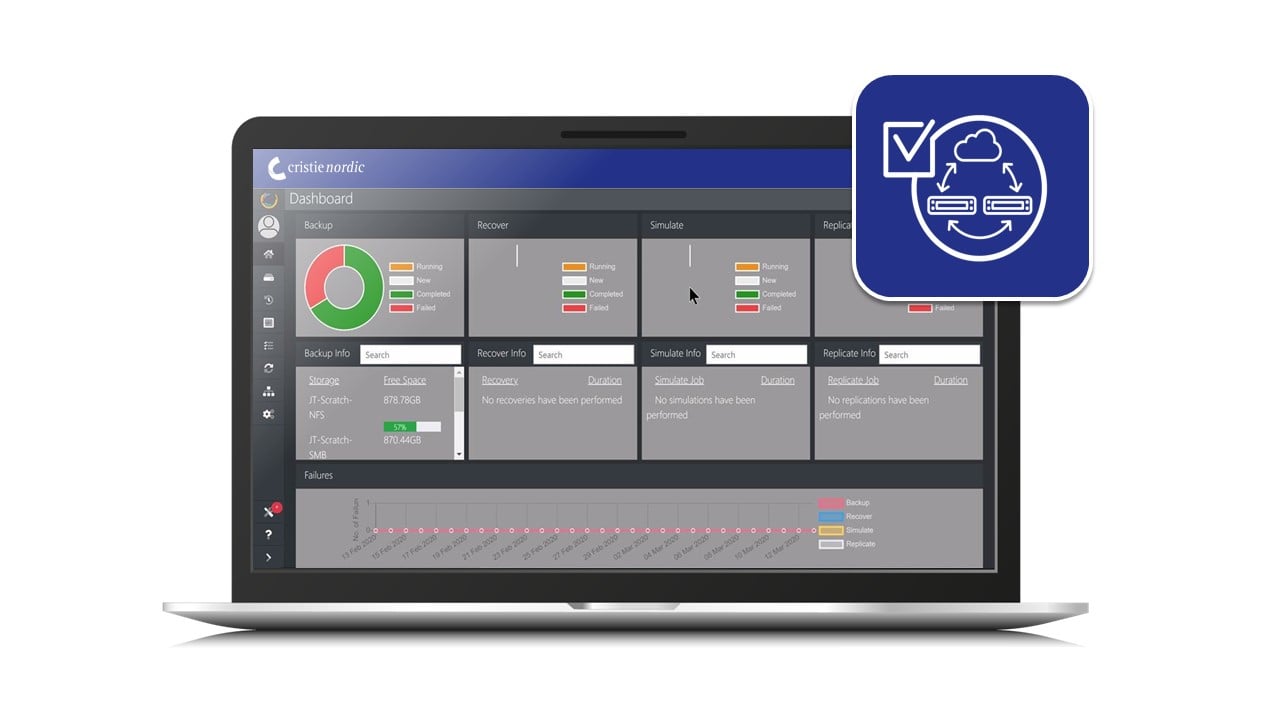 Cristie Recovery Assurance is a bundled solution of Cristie BMR and Cristie Virtual Appliance Management Console with automated restore tests.
System Recovery with Cristie BMR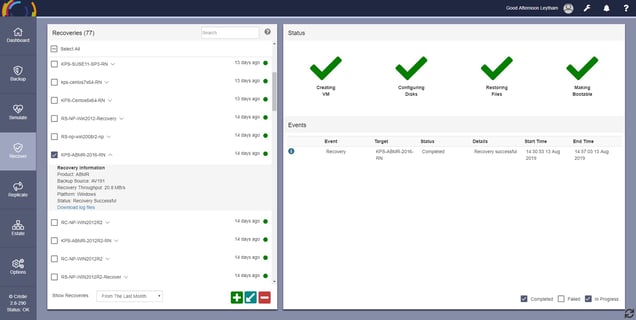 Our BMR software recovers physical, virtual or cloud source machines to new target machines in a different environment or on dissimilar hardware. The target environment can also be physical, virtual or cloud. It is possible to have any combination of source and target environments, including cloud to physical and cloud to cloud. The software works with all current versions and many legacy versions of Windows, Linux, Solaris and AIX.
Recovery is carried out at a file level and the software ensures that the recovered system is functionally identical to the source system at the point in time that the backup or snapshot was made.
A unique feature of the software is its integration with a number of enterprise third party backup products. This provides system recovery directly from the native backup and without the requirement to take another backup of the system files. The integrations include:
System recovery can be carried out from a backup of the source machine for DR protection or from a live running machine for machine migration purposes.
Orchestration with Cristie VA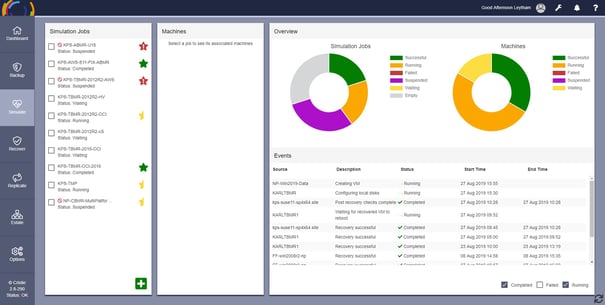 Cristie's software provides simple and automated protection of IT systems and data across Windows and Unix platforms which is managed from a single browser based interface. The management console is provided as a pre-packaged Linux virtual appliance, the Cristie Virtual Appliance ("VA").
Recovery testing
Recovery automation
Machine migration
Machine replication and fail-over
System and data backup
The software has intelligence and advanced integration with the leading hypervisors (including VMware and Hyper-V) and cloud providers (including AWS and OCI).
The Cristie VA allows all the functionality of our software to be controlled from a central browser based console.
---
Backup Assurance
Perform regular recovery simulations to test and certify your backups. In the event of a disaster you can recover directly from a simulation job.


Dissimilar Hardware
With our unique dissimilar environment technology, you can recover to any physical, cloud or virtual environment.


Automation
In a disaster recovery scenario, you don't have time to sit and recover each server manually. Fully automate the recovery of your servers and application groups
---
Recovery Testing
The Cristie VA allows recovery tasks to be created which will recover a server or group of servers. These can be executed manually or scheduled to run automatically. The test recoveries can be to an isolated virtual or cloud network to prevent any conflict with the production environment. Advanced logic ensures that recoveries of an application group or a number of application groups are carried out in the correct order and that networking and security permissions are in place before servers are brought on line.
The software will automatically carry out the following processes:
Create the recovery environment
Configure the network
Perform the recoveries
Perform post recovery checks
Produce a report of the recovery process and optionally destroy the recovery environment
The output from the recovery report allows the recovery tasks to be fine-tuned to ensure that all required network and server resources are in place to complete an effective recovery.
Recovery Automation
Recovery automation is the process of carrying out a recovery in a live environment so that the recovered systems and applications are made available to end users once they have been restored. This may involve changing DNS settings and ensuring security privileges are replicated exactly so that users can log back in to systems whilst ensuring security is maintained. It is also possible to provide scripts which would automatically trigger a recovery if certain conditions are met such as a datacenter or application going offline.
Migration
How to move a significant number of servers from one datacenter to another?
A migration like this is similar to a backup and restore process and because we can restore to dissimilar hardware we are able to move servers from physical to virtual to cloud to migrate servers or complete datacenters. Please feel free to download our case study: Speedy, stable and secure, TBMR facilitates successful migration.
---
Contact for more