Rubrik, the Multi-Cloud Data Control
Rubrik, the Multi-Cloud Data Control™ Company, enables enterprises to maximize value from data that is increasingly fragmented across data centers and clouds. Rubrik delivers a single, policy-driven platform for data recovery, governance, compliance, and cloud mobility.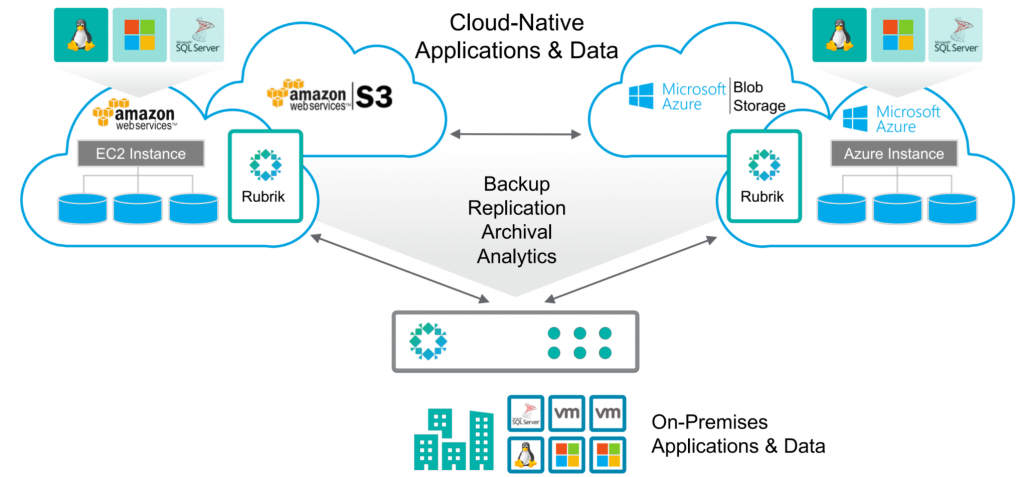 Rubrik delivers a single software platform for complete enterprise data management across data center to cloud. It has been designed from the ground-up to simplify and automate core backup and recovery capabilities while also enabling API-first automation, easy cloud mobility, and defense against cyber attacks and data breaches.
Resources below covering all protection >>
Rubrik's product portfolio includes the following:
Rubrik Cloud Data Management Platform: Rubrik's flagship data management solution delivers backup, recovery, data archival, and disaster recovery on-premises, at the edge, and in the cloud.


Rubrik Polaris SaaS Platform: Polaris delivers a unified system of record to organize global business applications and data managed by Rubrik Cloud Data Management. With Polaris, Rubrik delivers new value-add services, such as AI-driven ransomware recovery, governance and compliance, and data intelligence.


Rubrik Mosaic: Rubrik Mosaic simplifies and automates application-consistent backup and recovery for NoSQL databases with a policy-driven approach, enabling digital-minded enterprises to build next generation customer-facing applications. Rubrik Mosaic can be installed on-premises, in any cloud, and is also available via Microsoft Azure Marketplace.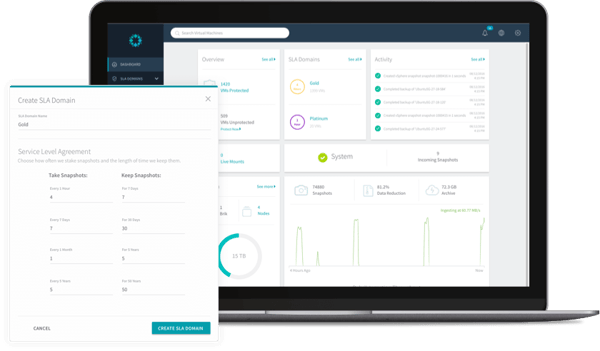 The Rubrik Cloud Data Management platform incorporates the following design principles:
1. Software-defined: Rubrik consolidates disparate hardware and software components into a single software fabric. Enterprises can run Rubrik anywhere via plug-and-play appliances on-premises, as software on third-party hardware, or as software in the cloud.

2. Simplicity at scale: Rubrik wipes out management complexity with just a few clicks. By adopting the same web-scale technologies used by Google, Facebook, and Amazon, users can easily handle rapidly increasing volumes of information with a linear-scale architecture.

3. Cloud mobility: Rubrik enables cloud and application mobility for all enterprises. Whether deployed on-premises or in the public cloud, Rubrik can protect cloud-native applications, search across applications and files, and quickly spin up instances for test/dev or DR.

4. API-first: Rubrik is the industry's only data management solution built on an API-first architecture. To help users leverage the APIs, Rubrik offers industry-standard OpenAPI documentation, sample code, and pre-built integrations with a variety of automation tools.

5. End-to-end security: Rubrik offers a comprehensive, multi-faceted approach to security. Throughout the entire lifecycle, data is encrypted in-flight and at-rest. Enterprises can recover from ransomware attacks quickly by reverting to the most recent clean snapshot. All applications and data are stored in an immutable format.

6. Broad ecosystem support: Rubrik's software platform is designed to be vendor-agnostic, supporting industry-leading applications, operating systems, databases, hypervisors, clouds, and SaaS applications. Rubrik provides freedom of choice, allowing enterprises to operate both on-premises and in any cloud while avoiding vendor lock-in.
---
Resources - Read More
A Modern Approach to Backup and Recovery
Rubrik simplifies backup and recovery across hybrid cloud environments. Eliminate legacy complexity by consolidating disparate hardware and software components into a single software.
Rubrik Backup & Recovery Datasheet
Rubrik Go: Subscribe to Simplicity
Native Backup & Recovery for AWS
Protect your AWS cloud with consumer-grade simplicity. Eliminate time-consuming manual scripting that doesn't scale with policy automation.
Modern Data Protection for Leading Databases
Databases are vital to an organization's management of data. However, high data growth, database sprawl, cloud, distributed systems, and shrinking backup windows have made protecting these vital resources a challenge.
Rubrik for NoSQL Data Protection Datasheet
Rubrik for Oracle & MS SQL datasheet
Rubrik for physical appl DB and OS Datasheet
NAS Direct Archive Built for Scale
Efficiently store massive unstructured datasets elsewhere on-premises or in the cloud. Unlock policy-driven simplicity, cost savings, and high performance at scale. Drive operational efficiencies with incremental-forever backups and fast file scans.
RUBRIK for WINDOWS/LINUX/UNIX
Simplify data protection and management of all your operating systems with policy-driven intelligence and consumer-grade ease-of-use.
Rubrik for physical appl DB and OS Datasheet
Immutability to Defend Against Ransomware
Recover from ransomware with immutable backups built into the platform.
Rubrik AirGap Isolated Recovery Datasheet
Instant Search. Faster Recoveries. for Microsoft Office 365.
Automatically protect and manage Office 365 while retaining full control of your data, wherever it is. Comply with data residency requirements while enabling granular, on-demand global search and recovery with cloud-native protection.
Rubrik Polaris for O365 Protection
An Edge-ier Approach to Remote & Branch Office Protection
Rubrik introduces Edge, a software appliance that extends data protection and management to virtualized and physical remote and branch office (ROBO) environments. Deploy Rubrik Edge at remote locations to backup locally, replicate to a central data center, and archive to the cloud with an easy interface.
Rubrik for Remote office Datasheet
Multi-Hypervisor Support for a Multi-Cloud World
Unlock near-zero RTOs, policy-driven intelligence, and instant search. Rubrik delivers backup, replication and DR, archival, and analytics for the hypervisor of your choice.
Rubrik on VMware Solution Brief
Rubrik SolutionBrief NoSQL Nutanix more
Appliance or software only
We can design your solution with a ready to run appliance or software only to install on Cisco, HP or Dell infrastructure.
Book a Rubrik presentation