STORAGE DIRECTOR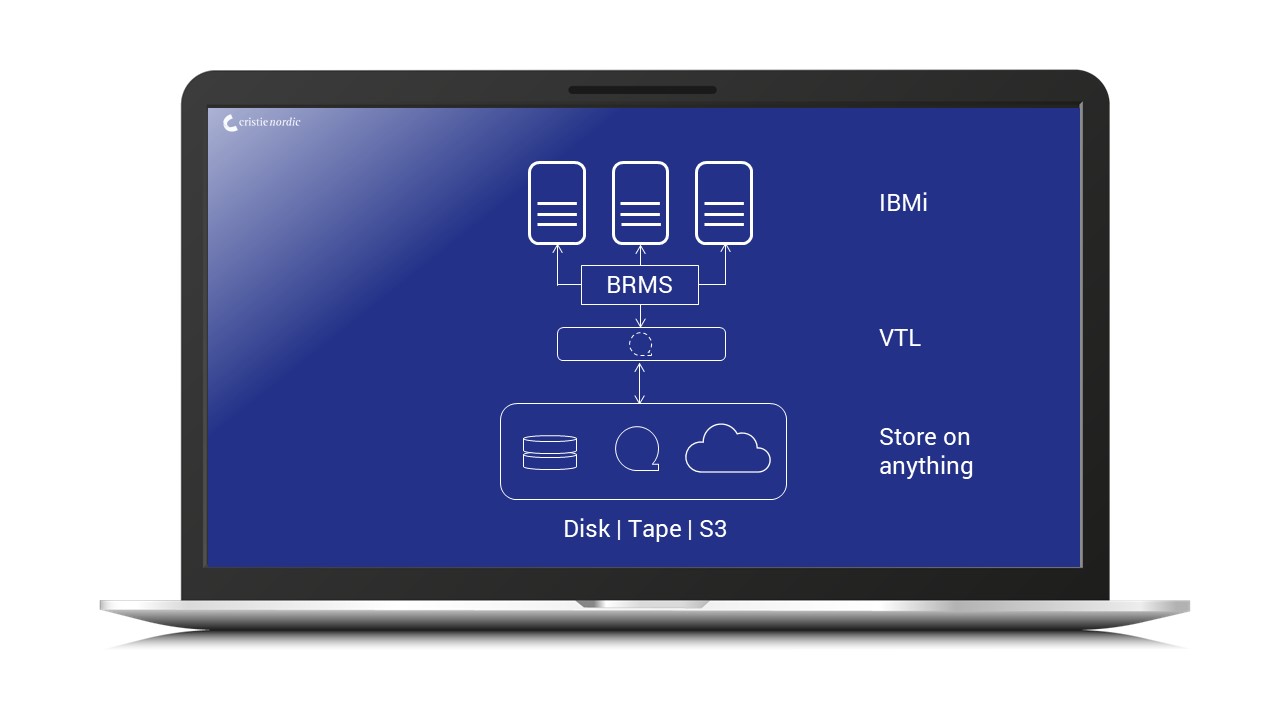 High performance virtualized backup target.
Storage Director is a high performance, software defined, policy-based and tiered backup virtualization solution that enables data from any host, OS or backup application, to be backed up to any storage device, medium or technology, including IBM Cloud Object Storage (COS), Hitachi Content Platform (Object Storage) or any S3 compatible private or public cloud target. Storage Director is a fully virtualized target for any backup application such as Spectrum Protect, NetBackup, Commvault, Veeam, etc. as well as BRMS for IBM Power i and enables policy-based data pools to be created and backed up to multiple targets and replicated for remote storage and DR.
Storage Director is also unique in being able to present a single target / solution for backing up ALL open environments, such as Linux, Windows, UNIX, etc. as well as proprietary host platforms, such as HPE NonStop, IBM Power i/iSeries/AS400, Mainframe z/OS, HPE VMS, HPE SuperdomeX etc. on a single node.
Storage Director's extreme backup and restore (Read and Write) performance allows backup data to be written to object storage solutions on premise, or to public clouds like AWS, Google, Azure and IBM with high speeds. Additionally, the caching capability allows for reducing or eliminating ingress and egress fees.
"With Storage Director InfiniCache® we provide industry leading performance"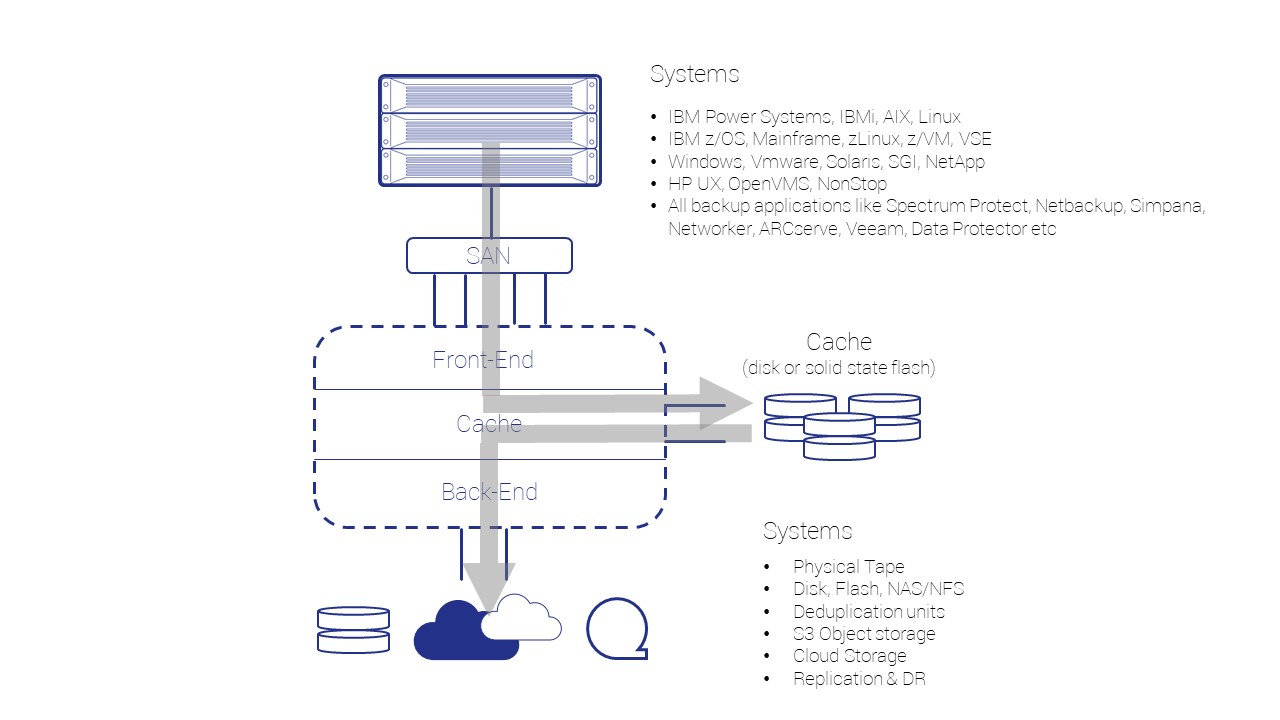 Storage Director - Basic Architecture
Front-End
The Front-End presents virtual devices native to the backup management application (BMA) being used in each open environment. This also includes BRMS on iSeries and DFSMS and CA on Mainframe z/OS.


Cache
InfiniCache® proprietary, copyrighted Cache striping technology provides industry leading performance and a staging area for data prior to sending it to archival media.


Back-End
The Back-End provides a media manager to Interface to a wide variety of target devices and media. These include IBM COS, HCP (with an optimized interface with large block size), any S3 compatible cloud target like AWS, SAN/NAS devices, dedup disk and tape libraries.
Key Features
Fully virtualized and automated backup and restore operations
– lights-out operation allowing remote administration
– separation of front end from back end processing
– industry leading performance from InfiniCache™ proprietary cache striping technology on disk of flash eliminates backup window problems
Specifically designed for heterogeneous multi-platform environments
– platforms include Windows, Linux, UNIX (AIX, HPUX, Solaris), IBM iSeries(AS/400), HP NonStop (Tandem), OpenVMS, VMware® and more
– supports all major backup management applications such as Spectrum Protect/TSM, NetBackup®, Veeam, Commvault Simpana®, BRMS (iSeries), DFSMS and CA (Mainframe z/OS) and ABS/MDMS (OpenVMS) and others


User defined policies allow flexible data storage and migration strategies


Expandable and scalable for capacity and performance


Business resilience through remote backup, replication, disaster recovery and Multi-Node Architectures
Storage Director Cloud Backup/Restore Performance: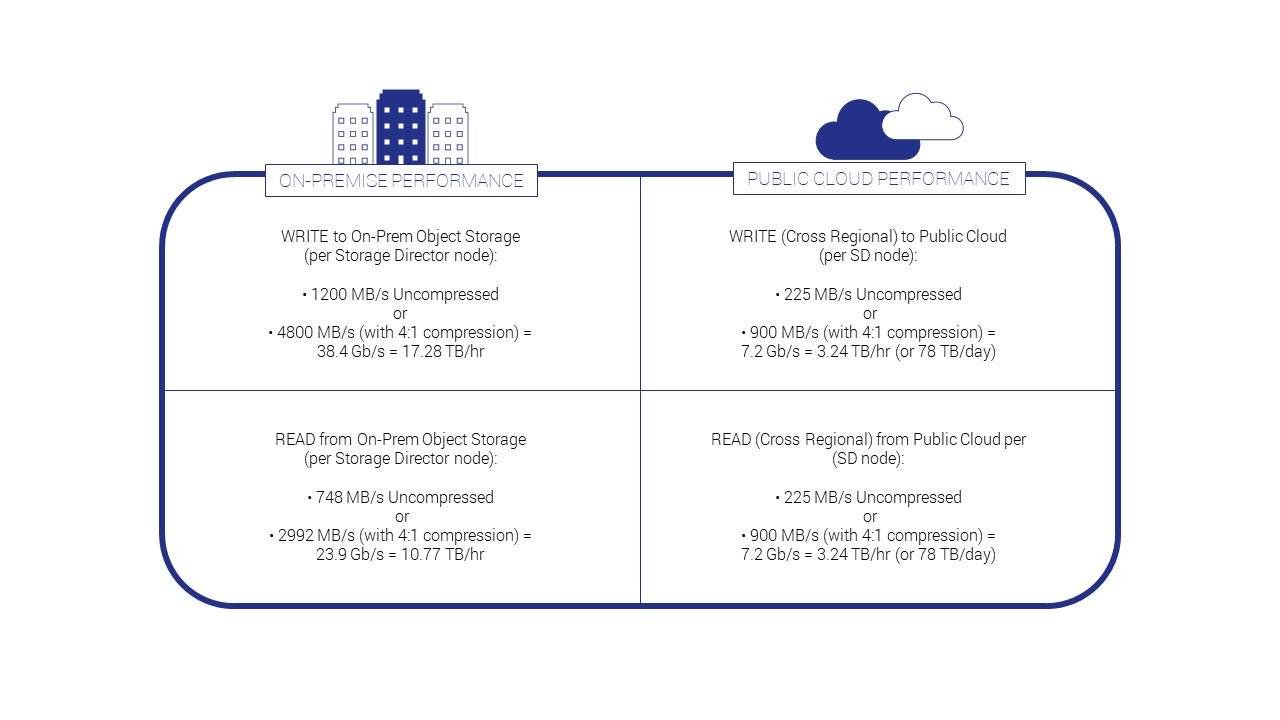 Primary Use Cases
High performance front end ingestion and caching for object storage solutions on premise and on public Cloud
Improves Read and Write performance to COS or HCP by between 3X and 5X given the same footprint of Backup Management Application (Spectrum Protect, Commvault, Netbackup, Veeam etc.), COS and a 10GbE connection between Storage Director and COS


Turnkey high performance backup/restore and archive solution with S3 cloud capability for HPE NonStop, IBM Power i/iSeries/AS400 and other enterprise computing environments


Tape modernization and/or replacement


Enable replacement of aging and expensive dedup appliances like Data Domain, Quantum Dxi and IBM ProtecTIER with lower cost object storage solutions like COS and HCP as well as archiving on public cloud
3 features to remember – Storage Director
1) Ability to separate data into pools and apply different protection policies such as retention, replication, movement to lower cost media such as IBM COS, tape, NAS or public cloud for archival
2) Offer customers the fastest performing backup solution per node in the market and therefore shrink backup windows and lower cost. Eliminate slow restores due to need for rehydration of dedup data upon restores.
3) Trusted by several Fortune 500 companies globally.